By Leslie | November 15, 2013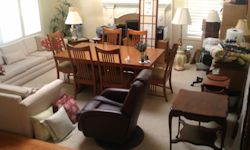 Knowing we were ultimately going to be leaving the country for a number of years, our thinking process slowly evolved as to what to do with our home and all our "stuff" accumulated over several decades of life.
We're not rich and couldn't afford to have the house sit empty for an indeterminate period of time, so that meant leasing it out – which meant dealing with all our "stuff".
We could've leased a huge ocean-going sized container and thrown all our stuff in there, but we gradually came to the point where we realized a lot of it was just "stuff".  We could buy new "stuff" someday if need be.  So we decided to downsize a 2,200 square foot home into a 16′ PODS storage container.
We had 3 huge garage sales, advertised the furniture on craigslist, but kept the sentimental furniture pieces and the type of stuff you run and grab if a forest fire is coming.
Comments Off

on Continuing our transition – downsizing and 3 HUGE garage sales