By Don | April 20, 2014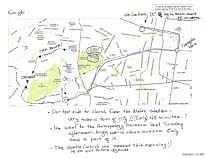 Today was the first "real" Sunday we've had off since coming to Mexico.  We were off last Sunday but so exhausted from school we simply slept in.
We knew we wanted to celebrate the risen Christ with fellow believers on Easter Sunday, so we googled "english speaking church" and found the Union Evangelical Church on the south end of town.  No problem – we'd simply take the Metro south (to the end of the line) and then a short taxi ride to church.
Didn't quite happen!  We got to the end of the line okay, but we were correctly judged to be gringos and got the "scenic" tour to church! Instead of heading south, we got to see new skylines of Mexico, around the castle in Chapultepec park and then a lovely drive back down south on the beautiful Paseo de la Reforma.  It only took 45 minutes (and 150 pesos – about $12) but we'd given ourselves plenty of time and everything worked out fine.
Take a look at our google map to see our little "detour"!
We discovered the Union Church was started in 1873.  It's a beautiful church and Pastor Lance eloquently stated the essence of the Christian faith in the death, burial and resurrection of Jesus Christ.
By the way – it only took a 10 – 12 minute ride back to the Metro station!
Comments Off

on Easter Sunday – only 1 1/2 hours to church…!