By Leslie | October 19, 2014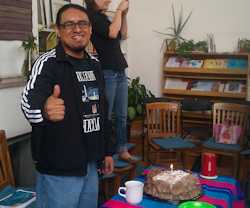 How fast our Fall has gone! Halloween is fast approaching in the U.S., but here in México a different holiday is celebrated – "Día de Muerto" which translates to Day of the Dead.  We've been learning about Mexican culture and this is a HUGE celebration here.

We recently celebrated the birthday of our Profesor (teacher) Andrés in our morning español class and all of the students (except Don and me) in class are refugees from troubled spots around the world – Africa and Russia.
Each student has a significant story of what they've left behind and why they left it all behind to start a new life in a different country and culture.
Our class joined in the celebration! Even though we are represented from Nigeria, Cameroon, Congo, Russia and the United States, we have a cohesiveness because we're all in a new country, a new culture and learning a new language.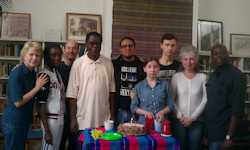 We're in our Spanish class every morning and on Wednesday and Friday afternoons we travel across town on the metro (subway) to practice speaking Spanish with our tutor, Teresa.
With these major holidays, we sometimes think we're in a war zone because the fireworks can get crazy (and loud!).  A couple nights ago it was hard to sleep! Another guest in the Casa told me the fireworks quit about 3 am…
Comments Off

on Three months of español under our belts!