By Don | August 28, 2014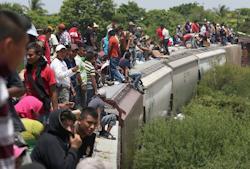 I'd heard about "The Beast" before coming to Mexico.  But having just come back from a "border run" this past weekend and spending some time with friends and family, I realized that some back in the estados unidos didn't know or understand the significance of this train.
But last week I confronted face to face the terrible consequences of that train ride through my new amigo – 3 year old Ricardo and his mother.
His right leg got caught under the train wheels and was severed between his ankle and knee.  Mom's arm – trying to save him – was severed.
They are now here at the Casa, and despite language barriers he yells out to me "Hola" while we chase and crawl around the floor together. I've taught him how to "high 5".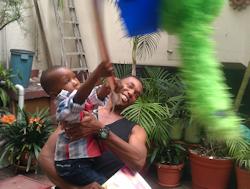 Last Friday was Ricardo's third birthday.  There was a birthday party for him along with the traditional piñata and other kids, but I knew all the adults watching the fun and festivities were reflecting deeply on other matters.
Comments Off

on The "Beast" – my first witness to a catastrophe