By Don | August 28, 2013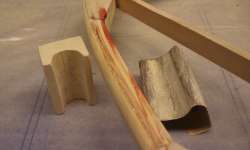 I was sanding the edges of the horizontal stabilizer when I noticed red – hmmm – that didn't look right! Didn't realize that the edge of my sanding block was chewing into my palm as I aggressively sanded a radius on the leading and trailing edges of the stabilizer.
I'd been sanding for maybe a couple of hours and was pleased with how the radius was coming along, until I saw the blood.
How'd the builders in the 1920s and 1930s get their radius curves? Not really sure but today you'd just use a router and it'd be done nicely in a few hours.  But for some crazy reason I decided to manually sand the edges, and I found the experience of manual labor (and the smell of sawdust) to be therapeutic and a nice break from my "real" work as a Realtor.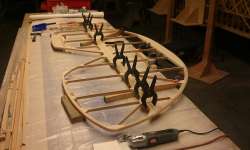 The sanding is almost done now. I really like how the curves of the radius are turning out. The right side of the picture is the "fixed" part of the stabilizer. The left side (with the indent) is the elevator that goes up and down, which is what controls the up and down (pitch) of the aircraft.
When all the sanding is done, I'll brush everything with sealer.
Comments Off

on Some blood shed on the Tiger Moth