By Don | August 29, 2015
This has been an interesting two weeks for us – especially this past week.
Corruption is endemic in Mexico (from our experience of living there last year), and now after living here in Guatemala and listening to our local friends, apparently is true here as well.
In May the former Vice President of Guatemala resigned and is now in prison awaiting her trial on gross corruption issues.  The President is under intense pressure to resign but refuses to do so – and the national presidential elections are next Sunday.
The country is fed up.  This week has seen mass demonstrations around the country demanding the resignation of the President.  Here in Xela, we saw three days of mass demonstrations, all very peaceful, but intense.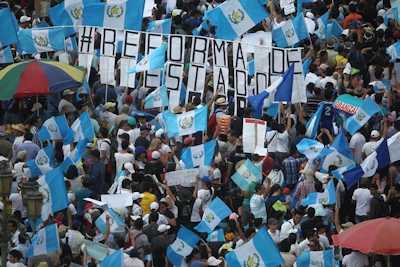 Across the street from our apartment is an electoral voting office.  It was shut down by the demonstrators who hung large banners across the front demanding the resignation of the President.
Cars would stop in the narrow street and men would write with white shoe polish on the windows "renuncia Otto"  (resign Otto Pérez Molina) to loud cheers, blowing whistles and honking horns.  Many cars, trucks, buses, etc, here in Xela have these messages.
The Guatemalans dearly love their country but hate the corruption and suffering it brings on the people (which is exactly like what we saw and observed in Mexico).  The next two weeks will be interesting to see how all this plays out.
Comments Off

on Guatemala – a country aflame