By Don | August 23, 2011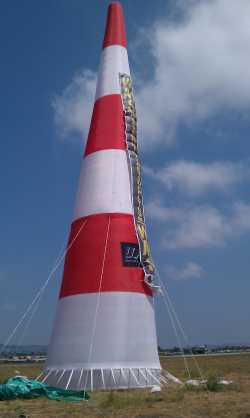 What did I get myself into I thought as I volunteered to be a "pylon dog" at the Camarillo air show?!?
The air show organizers tried to bring a high level of excitement and buzz to the show this year by having another organization bring their race to Camarillo. Seven aerobatic planes would "race" down the field, slaloming between 60′ – 70′ high inflatable pylons – cool!
I envisioned having to stand next to these things while the planes screamed just over my head. I'd been told that in practice (at another field), the planes got as low as 7′ – but I figured, that's okay – I'm less than 6′ tall, so no problem…
Besides, I was told the FAA had set a minimum floor of 15′ for these guys – lots of room!
But ultimately, there was no racing because of lots of complications between the race organizers and the FAA. – bummer.
But what a beautiful weekend for an air show – lots of sun, noise and smoke as all types of planes flew throughout the weekend.
And we put up the pylons each day to give the crowd an idea of what the race may have looked like  – maybe next year! Read the rest of this article »
Comments Off

on "Pylon Dogs" at the Camarillo Air show this weekend