By Leslie | December 29, 2014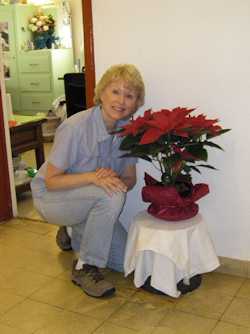 We've been learning how Christmas is celebrated in Mexico!  In our español class a couple of weeks ago, we started learning about how many Mexicans start their pre-Christmas celebrations through the "Posada", the (historical) significance of piñatas and of course – food!
The Posada is a re-enactment (through singing) of the difficulties Joseph and Mary had looking for an inn – and being turned away.
This traditional celebration was held here two Saturdays ago in the evening with 60 or 70 people, families and kids.  Half the group was outside the (closed) front door with candles and the others (representing the inn keepers) on the inside.
The outside group sang a request for lodging and the inside group turned them away – it went back and forth 3 times.  Then the inside group opened the door and let everyone in with a final chorus.  It's a beautiful traditional song!
Then piñata time!  Obviously, this is what the kids were waiting for and the Casa had 3 large ones filled with candy and oranges.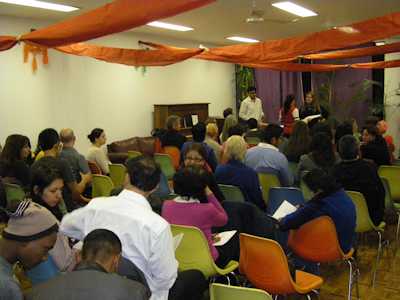 As part of the Posada celebration, we had an old fashioned Christmas sing, but for us a twist – we alternated the carols in español and English!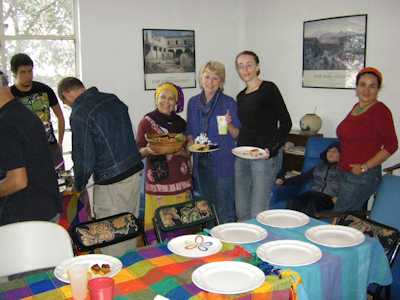 On Christmas Day, our Casa had a pot luck Christmas dinner just for the guests, the volunteers and a few invited guests. Our contribution to the potluck was meatballs and gravy and freshly cooked beets. The variety of dishes were yummy!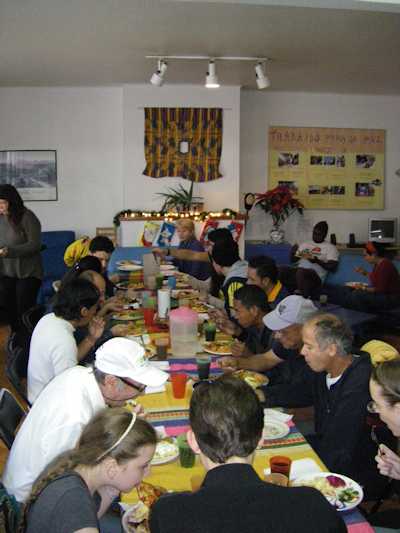 There was such a turnout that extra places had to be set up! The countries represented in this picture are: El Salvador, Italy, Argentina, U.S, Canada, Russia, Columbia, Nigeria, Cameroon, Peru, Mexico, Honduras and Jamaica. A world gathering at one table!
Comments Off

on Christmas season at the Casa