By Don | September 22, 2012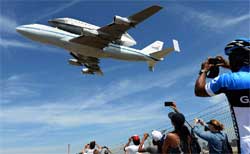 I was looking forward to seeing the shuttle land at LAX – but first I needed to know what side of LAX – north (In and Out Burger side) or south? A call on Thursday to LAX ops confirmed my suspicion – it would land on the new runway 25 L (left), built specifically for the new Airbus 380 jumbo jet.
Next, I studied my Google map carefully and noticed the Proud Bird restaurant (ooh – the comfort of a nice lunch, easy parking and fabulous location), but no, they were sold out long ago (plus, being a cheap kind of a guy, wasn't sure I wanted to spend $35 a ticket for lunch).
But wait – look at that huge parking lot just under the approach end of 25L – perfect! Leslie said she'd go with me (that's good when the boss wants to take time off from work also) so with plenty of time to spare, we head down to LAX.
Plan A. Hmmm – can't get in. Parking lot  "E" is for employee parking only. No problem because I notice all the free shuttle buses going in and out of the parking lot.
Plan B. So I headed over to the terminals and park in parking lot P1.  But when we tried to get on the E shuttle bus, we couldn't (no employee badges). So that didn't work.
On to Plan C – walked back to the parking lot, went to the roof and looked way over to where 25L should be. Waited for a jet to land over there but realized it was much too far.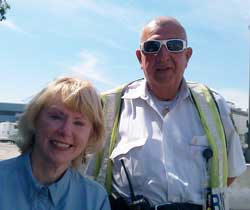 On to Plan D…
Drove back down La Cienega towards Lennox and realized if we drove into Inglewood a bit we could walk back (hopefully) and into the E parking lot.
Others had the same thought so we followed the crowd. But we soon discovered a security guard wouldn't really let us in!
But Leslie sweet talked him into letting us sneak in a little bit – and the crowd followed.
Now it was time to wait.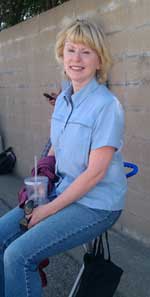 Leslie had a little golf style folding chair, found some shade and checked emails (Realtors never stop working!).
Finally it came! The shuttle made the first low pass on the north side (west to east) of LAX, left us for JPL, came back on the south side for a low pass (east to west – very close and cool!), went down to Long Beach and then finally landed.
It was so awesome standing so close to the approaching 747 as it went over us! Everyone was taking pictures and yelling and screaming. Leslie and I shot videos (the still shot of the shuttle is courtesy of the LA Times nearby) and after a few seconds, it was all over. Kind of sad to see the shuttle program finally end…
Maybe Leslie will give me time off in a few weeks to watch them move the shuttle down Manchester Blvd!
Comments Off

on Trying to find "best" spot to see the shuttle land…