By Leslie | November 25, 2012
My husband Don was deployed to the New York/New Jersey area as a certified FEMA inspector for those whose homes were damaged by Super Storm Sandy one month ago this weekend. See Don's recent post.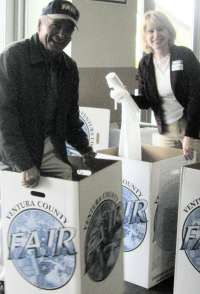 After several weeks and no relief in sight, I didn't know if Don would be back home for Thanksgiving.
I'd heard from our church and the media that traditional Thanksgiving meals with all the trimmings were being served at the Fairgrounds for the homeless and folks in transition or for those in need – whatever their situation.
The need for many helpers and servers went out and I thought this would be a fun and perfect opportunity.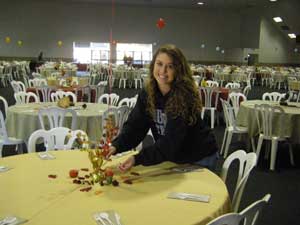 On Thanksgiving morning, I checked in to my post at 6:45 a.m. The day was clear and cool. Everyone had willing hearts to serve and excited for what the day would bring.
Sara and I are putting the finishing touches on the center pieces of the beautifully decorated tables in the San Miguel Room.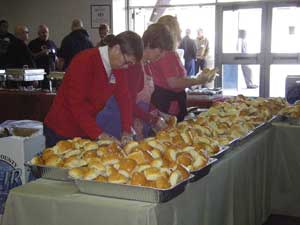 Students of all ages as well as adults of all ages helped in a variety of ways – stocking the trash receptacles with Andy to decorating the tables to serving the guests as they were seated to make the day a huge success. About 1,000 guests and workers feasted on turkey and all the trimmings on this special Thanksgiving .
Comments Off

on Thankful helping at One City Meal