By Don | December 1, 2018
Hurricane Michael hit the Florida panhandle in the middle of October while Leslie and I were working in North Carolina. FEMA transferred Leslie to Tallahassee and I was just south of Alabama in Marianna. There were no hotels available so I stayed in Dothan, Alabama, and commuted everyday.
The primary damage in the area was snapped in-half pine trees. I learned on this deployment that it was very common for families to have maybe 40 acres of land planted in pine trees for future harvest. They were considered inheritances for future generations. But Michael wiped it all out and made those long term (40 years) investments worthless.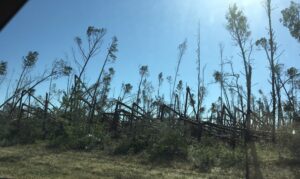 More snapped trees…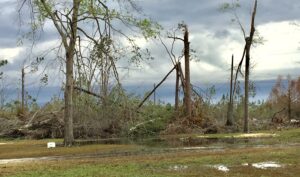 We had Thanksgiving day off so Leslie invited me to come down to Tallahassee where she had Thanksgiving dinner waiting for me!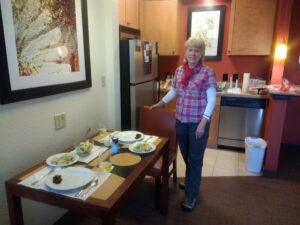 One crazy thing on this deployment was time zones. When my team worked in the small town of Sneads, it straddled time zones between Eastern and Central – literally. We could watch our cell phones switch times just by walking a short distance. Why the locals put up with that I have no idea!
Comments Off

on Hurricane Michael – Florida