By Leslie | May 10, 2017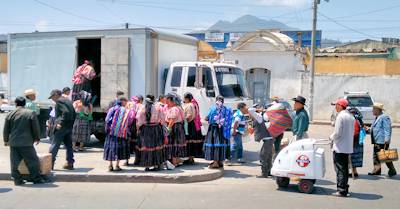 Last Saturday, while we were waiting for the bus, we noticed many Mayan women waiting on the steps of the local church nearby. We figured something was going to go on – a funeral, a wedding, or a church service. But to our surprise, a box truck pulled up, the side door opened up, a step ladder dropped down and all these people started to climb in!
A woman standing next to us explained that these women lived up in the mountains beyond the bus route and this was their transportation.  We were curious if they'd drive away in darkness with the door closed, but they left it open!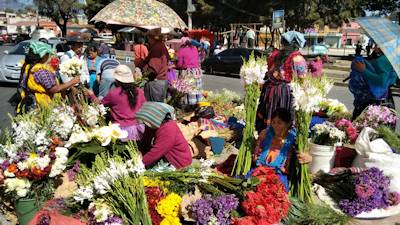 We catch our bus from this spot, but on Sundays the area is packed with flower vendors selling gorgeous varieties – primarily to the families paying their respects to those who are buried in the adjacent cemetery. This particular cemetery is absolutely huge, perhaps a mile long!
Comments Off

on Mass Transportation – Guatemala style!