By Don | September 18, 2016
I'm a standby inspector for doing FEMA inspections after a regional disaster occurs somewhere in the U.S.  and I've just finished spending two weeks in Louisiana working with families hard hit by the effects of what was to become hurricane Hermine.
Even after a couple of weeks after the storm, there was still standing water in many areas.  Some of these places had water 4-6 feet deep in their homes, and some homes I inspected had standing water for over a week.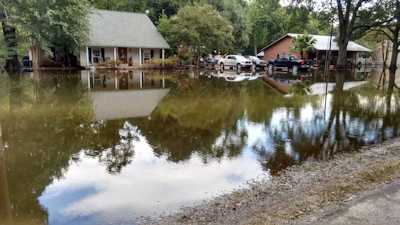 Mile after mile, furniture, appliances, drywall and family treasures were thrown out on the road to be collected as trash.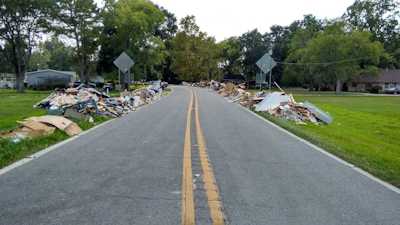 After a while, truthfully, I never paid attention as I went from home to home…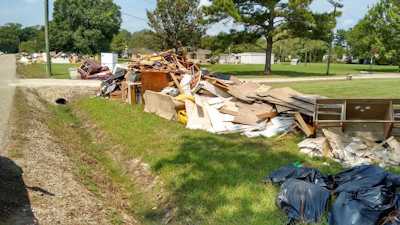 But every pile represented someone's horrific loss.
There's a certain amount of danger going into damaged homes and in the country, many of the homes I inspected were mobile homes with steps of various safety!  I'm always aware of where I step, but for this one moment – while focused on something – I forgot these steps were rotten and I instantly crashed through the top step. Fortunately, nothing got broken but the step (and some black and blue bruises!) but I kept on working without a pause that day.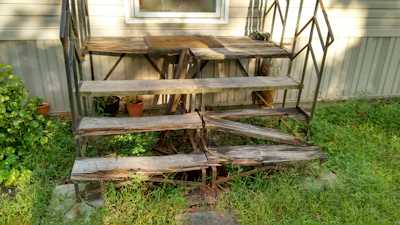 We work 7 days a week in the field from 7 am until sundown, then spend a couple of hours in the evening calling and setting appointments for the next day.  I never stop for lunch.  My routine is to buy trail mix, add extra M&Ms and raisins, pour it into a styrofoam cup and munch throughout the day as a travel from home to home.  I usually lose 10 pounds every deployment which isn't a bad thing!
Flying back to Guatemala City, I then had a 4+ hour bus ride back "up the mountain" to Xela (almost 8,000 feet).  It takes a couple of days to decompress from the deployment and catch up on some sleep. The work is arduous – but I love it!
Comments Off

on Disaster relief in Louisiana