By Don | May 29, 2013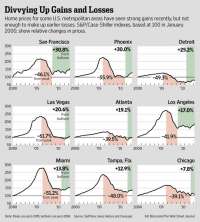 With multiple offers and over bidding now the norm, some buyers have asked me if we're in a new housing "bubble".  These frustrated buyers, after losing out multiple times, want to throw in the towel and give up.
Yesterday's Wall Street Journal had this chart from the just released Case-Shiller study.  It shows where current price points are in relation to the high water mark of a few years ago.
Looking at the LA region, even though price points are currently rocketing up, there's still a long ways to go before reaching previous price point levels.  And with interest rates so incredibly low, many buyers (and investors) believe today's prices are still "cheap".
With an extremely limited inventory for entry level homes, competition and heavy over bidding will still be the norm I believe through the summer months.
Comments Off

on Homebuyer questions: Are prices too high now? Should we wait?