By Don | October 19, 2023
Hilary, a strong category 4 hurricane off Baja in August, was a unique and potential threat to SoCal. In response, FEMA activated a team at FEMA regional headquarters in Oakland for the possibility of deployment to San Diego county. So Leslie and I packed up and waited in Oakland in "standby" mode.

Fortunately, Hilary didn't do significant damage in SoCal. However, Leslie was then deployed to Chicago for significant flooding damage from recent midwest storms and I was deployed to Florida for the damage caused by hurricane Ophelia.
Several counties in Florida's panhandle were federally declared for FEMA assistance but my team was assigned to a county with minimal damage. One thing I love about our FEMA "gig" is seeing different parts of America – like our just completed deployment to Guam.
This time, we got a tour of a business that ships fresh meat across the states. Here we're in a large walk-in cooler of fresh meat ready to be butchered into steaks with the owner of the company.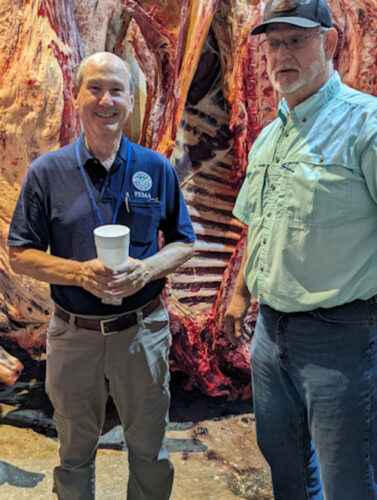 When the time came for Leslie and I to demobilize from Chicago and Florida, we closely worked the timing so that we'd arrive back at LAX at the same time, same terminal, so we could catch the same shuttle bus back to Ventura. It worked!
Comments Off

on Autumn FEMA deployments – Chicago and Florida